---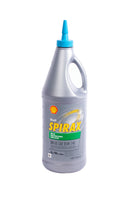 Shell Spirax S4 AX 85W-140 Gear oils are designed for service in the drive- train gears of heavily loaded equipment and passenger vehicles. They are recommended for the lubrication of hypoid, spur, bevel, helical, spiral-bevel and worm gears in differentials, transmissions, final drives, transfer cases, and steering mechanisms.
Shell Spirax S4 AX 85W-140 is a premium all-season, multigrade gear oil designed to exceed Original Equipment Manufacturers' lubrication requirements under today's increased temperature and loads.
S4 AX SAE 85W-140
High Performance GL-5 Gear Oil

API: GL-5, GL-4, MT-1

SAE J 2360
1 Quart
Sold Individually
Level 7 Note:  This fluid is specially recommended by Eaton for their Truetrac helical limited slip differentials.  This is the only fluid they recommend and also use in all of their testing.  We use this fluid for all non clutch type differentials.