---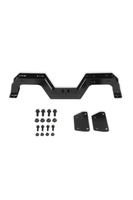 When we are dealing with a stock frame, Holley is Level 7's go to Crossmember.  This Crossmember fits T56, and T56 Magnum Transmissions. 
These new crossmembers have been redesigned and are less expensive than the previous crossmember & work with Holley's engine mounting brackets for both the GM LS & Gen-V LT engines.  
These crossmembers, when used with the BlackHeart engine Mounts, provide the ideal u-joint angles and the best clearance for 3.00" dual exhaust.
Features:
Revised Design with Lower Pricing
Fits 1973-1987 C10/15 2WD, 1979-1987 C20 2WD & 1973-1982 Blazer/Jimmy 2WD
LS/Gen-V LT Swap Transmission Crossmembers
Designed for Use with All 1973-1987 C10 LS/Gen-V LT Swap Components
Designed Using CAD Modeling/FEA Analysis for Optimal Strength, Weight, Safety & Appearance
Welded Steel Construction w/ Black Powder Coated Finish
Designed in Conjunction with Other Hooker Blackheart C10 Engine Swap Parts to Provide Bolt-in Installation of Hooker LS and LT Swap Manifolds and Exhaust Systems for this Application