---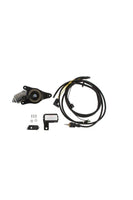 The Builders at Level 7 know we all get tired of the on/off cycling of the wipers in our ProTouring Trucks. Anyone that puts miles on one of these classic trucks knows how some of the simple upgrades can make them even more enjoyable. 
This kit provides you with the performance and convenience of a late model wiper system in a package that easily and cleanly mounts in your car. The wiper motor contains a low profile, seven-speed wiper motor with 5 delays, low speed, and high speed, rotary switch, adapter plate, and wiring harness. The CNC aluminum adapter plate mounts the wiper motor to the stock firewall bolt pattern. The low profile wiper motor mounts to the firewall and clears the valve covers and brake booster. 
These wiper kits feature easy install, push button windshield washer function, and light weight wiper motors. The wiper switch and wiring harness plug into a wiper control module located under the dash. The wiper motor connector is already installed on the wiring harness, saving you from having to pin out the wiper motor connector. The wiring harness has also been simplified with new wiper control module design. The seven position rotary wiper switch now features a push button function for a windshield washer option. Once the push button function is released, the wiper blades cycle 3 times just like your current OEM vehicle.
Features:
Seven Speed Wiper Motor with Five Delays, Low Speed, and High Speed

CNC Aluminum Mount Connects Wiper Motor to Stock Firewall Bolt Pattern
Push Button Windshield Washer Function - Use with Optional Washer Pump 121102 - Washer Option Cycles 3 Times (like Late-Model Vehicles) and Continues at Last Switch Position
Compact Motor - for Extra Clearance
Complete Wiring Harness - for Easy Installation
For years 73-74 only!